Passion for God. Compassion for People.
3390 Brushy Creek Rd Greer, SC 29650 | Sunday's 9am & 10:30am, Wednesday's 7:00pm
New Here?
Watch Services
Worship Opportunities
We offer in-person worship opportunities on Sunday at 9 am & 10:30 am with opportunities for ages birth – high school each week. On Wednesday's we have mid-week discipleship groups for all ages.  
"Tests, Tragedies, and Triumphs" the latest release from Pastor Jerry Madden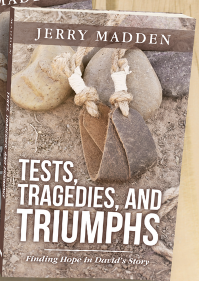 The latest release from Pastor Madden discusses the life of David.  You will be able to learn how to apply these lessons to your life through these situations that David encountered.  Order a copy today!
Fall leagues are beginning soon for kids & adults. Join in on the fun by signing up online today!
October 2, 2022 we will celebrate 40 years of the ministry of Praise Cathedral. Join us for a special day of thanking God for His faithfulness!
Visiting
Planning a time to come and worship with us? Check this section out so you can know what to expect when you arrive.
A great place
for kids!
We have wonderful security staff & volunteers in place to keep your kids safe while they're with us! 
Online Bulletin
Your one-stop place for announcements, news & updates on events happening Praise.
Service Times
Sunday's 9:00am & 10:30am
Wednesday's 7:00pm
*all services stream live online*
Get Connected
'Your involvement as a part of our church depends on you' is one of our church's themes.  We aim to provide great opportunities, it's up to YOU to get involved! Check them out here & get involved today.
Our Mission & Vision
Our desire is to be a church that has a passion for God and compassion for people.
SERMON: One Of Those People
Pastor Jerry Madden
September 18, 2022